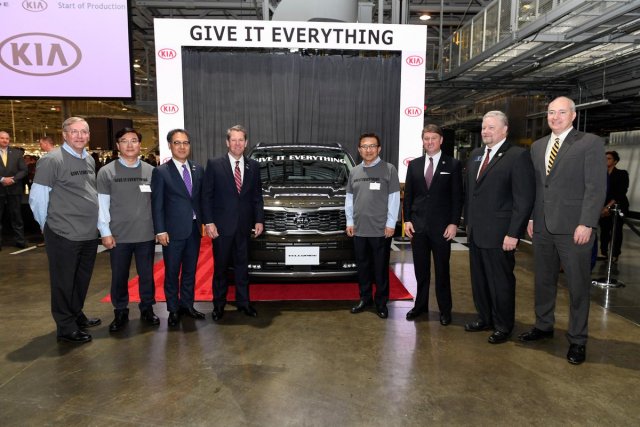 A brand new eight-passenger Kia vehicle is hot off the production line at the plant in West Point for the first time today.
The all-new Telluride is a first for Kia; the eight-passenger vehicle comes equipped with three rows.
Georgia Governor Brian Kemp joined the Kia team for a ceremony celebrating the start of production on their 2020 line of vehicles.
"This is Kia's first entry into a larger SUV," said Chief Administration Officer Stuart Countess. "We had traditionally built the Sorento, but now this one gives our customer a much better size car for their family needs."
Since the plant was brought to West Point ten years ago, they have produced 2.6 million cars.
It has been a major economic gain for west Georgia, bringing more than 14,000 jobs to the area.
"I think you have to look over the last ten years, what's happened in this community," said Countess. "We took a work force who had never built a car and we have continued to develop not only what's inside this plant but the supporting cast of suppliers that are outside in the community and that's ultimately resulted in jobs."
The West Point plant made another debut when they were highlighted in a commercial for the Telluride that appeared during the biggest game in America: the Super Bowl.
The young star of the commercial, who is a part of the West Point community, also made an appearance at today's ceremony.
The new Telluride will be on the market this spring.